This Made-in-Egypt Brand Is Bringing Its Super-Luxe, Affordable Basics to Soho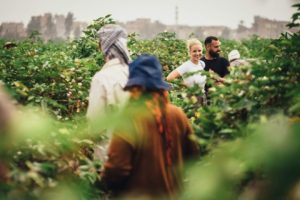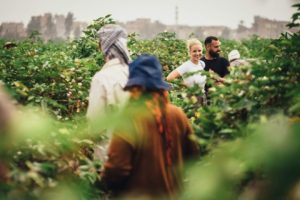 Walking into Kotn's new store on Mercer Street in Manhattan, you might be struck with a surprising feeling: warmth. Sure, it's been 90-plus degrees this week, but the clay accents, antique wood doors, fig trees, and hanging tapestries are also a rustic, inviting departure from the crowded streets and chilly designer shops down the block. The cotton T-shirts, sweatshirts, joggers, and tanks folded neatly on the tables feel extra-cozy, too. You might just be tempted to buy a whole outfit and hang out on a Moroccan pouf for a while—in fact, you can probably afford to. These basics are definitely of the "elevated" variety, but T-shirts go for just $28 and hoodies are around $60.
Wallet-friendly basics aren't the whole story here, though. Back in 2015, Rami Helali was in Egypt for a family wedding when he learned that Egyptian cotton—one of the country's most famous resources, hence its nickname, "white gold"—was on the verge of extinction. Cotton production had dropped to just 7 percent of what it had been in 2001, largely due to government subsidies being cut (the subsidies have since been partially reinstated). Demand for cotton exports were down, too, since many brands had found cheaper options elsewhere, leaving behind a struggling agriculture business in northern Egypt. "These were all family-owned Egyptian cotton farms on the Nile River Delta, where the river splits in two and creates this really fertile, lush area," Helali explains. "There are really high poverty levels in the region, high illiteracy rates, and a lack of women's education. It's a cycle that's been going on forever, so I wanted to figure out how to help."
One of Helali's partners, Benjamin Sehl, noticed an adjacent (admittedly less pressing) problem here in New York: Everyone was living in cotton T-shirts, but there was a huge gap between the cheap, poorly made tees you can buy for $5 and the $200 designer tees you're afraid to ruin. "In New York, it's what everyone is wearing, right?" Helali says. "The casual-ization of the workplace and our lifestyle has been beaten to death, but this really is the uniform." Perfect-fitting, well-priced T-shirts that could revive the Egyptian cotton industry? It seemed like a no-brainer. So Helali spent four months living with the farmers on the delta to better understand the crop and their needs—and to lay the groundwork for Kotn's first product.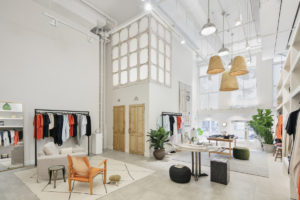 "Egyptian cotton is so special," he explains. "It's extra-long staple cotton, so the fiber is longer, more durable, softer, and more breathable [than other types of cotton]. It's the salt from the Mediterranean mixed with the soil from the Nile coming from the middle of Africa. It's this perfect mix of natural occurrences. It's like buying Champagne in Champagne, France—it can only be done there." Helali, Sehl, and Kotn's third partner and creative director, Mackenzie Yeates, work directly with cotton farmers, but they are also committed to every step "from farm to hand." "We wanted to make sure every single person along the way was treated well, from the farm to the fabric mill to the dye house, so our supply chain is quite complicated. Our philosophy is that our products should improve the quality of life of our customers and the people who are making them."
---
Original article posted at Vogue